Carolina Beach, NC to Grissettown, NC
Ah, what a beautiful day it turned out to be. I woke up at 430 this morning so that I could catch the 615 ferry across the river. It was still pitch black when I set out but I learned that my headlamp can function as a perfectly acceptable headlight for my bike when I strap it around my handlebar bag. It was a perfect crisp morning and I headed out towards the ferry station. Like I always seem to be doing I wildly overestimated the amount of time it would take me to get there. So I had about 45 minutes to kill before the ferry departed. I struck up a conversation with the toll collector, a tall, weathered sea scoundrel (his words) named Benjamin, "but everyone calls me Benji!". Benji had served 25 years in the Navy, retired to Carolina Beach and has been the toll keeper for the ferry ever since. He was cracking me up with salty sea stories from the Navy's  good old days for the next half hour and before I knew it, it was time to go. The ferry ride was so beautiful, the sun was just coming up over the ocean and I couldn't get that shit-eating, awe struck grin from my face the whole time.
Once on the other side I pedaled a few miles down the road and stopped at the walmart to get some fuel for my stove and fuel for my legs. I set off again, listening to some new podcast I had downloaded and before I knew it I had killed 50 miles! 50. Before 11am. The only thing that made me stop was I came upon a main road that was definitely not where it was supposed to be. I had made a wrong turn somewhere! I checked my location on Google Maps and luckily I hadn't made too big of a mistake. The road I was on ran almost parallel to the road I was supposed to be on. No big deal. In fact, it worked out even better because I stumbled upon a roadside farmers market. FRESH FRUIT!!! I stopped in and bought a couple of plums and also a heaping bag of peanut butter chocolate chip granola to go in my handlebar bag. I got to talk to my favorite older sister, Jessica, and together we came up with a brilliant plan to fend off future killer dog attacks. Find a small squirt gun and fill the reservoir with water and cayenne pepper.I think I'll name it Fido's Bane 🙂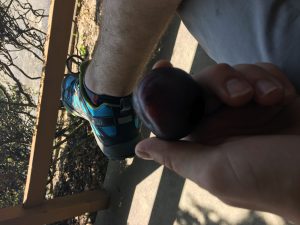 I checked my map and I was only about 3 miles or so from where I planned to camp for the evening (more on that later) I still had lots of gas left in the tank so I decided to pedal up the road a ways to Sunset Beach, NC and try to find some good seafood. I rolled up to the next gas station and asked one of the locals where I could find some good fish and he pointed me towards Bill's Seafood. I guess I should have been more specific because it turned out that Bill's was a fish market. No fish and chips for James. The owner offered to steam up some of the fresh caught shrimp they'd just brought in and I could eat it in the park across the street. Sore! I ate a pound of them and they were delicious. I eat so much food now that I'm considering changing my blog name to James and his Insatiable Appetite 🙂
So with my belly full of shrimpy goodness I set off for my camp. The place is amazing. Wide open grassy fields surrounded by woods, a swimming pool and sundeck, hot tub, hot showers, hiking trails. Everything a wandering vagabond such as myself could dream of. The people are incredibly friendly. While I was setting up camp a woman, Judy, wandered over with her dog, Freddy (because Queen is the best) and brought me some collapsible water bottles that she had no use for. She said with the look of my setup I was probably riding a lot in the heat and could use extra water. She was super nice. And also super naked. Did I forget to mention that this place is actually a nudist resort? Whispering Pines Nudist resort to be more precise. Last night I was looking for places to camp today and stumbled upon this hidden little gem. So I got here, set up camp, removed my clothing and went to the pool to try and get rid of this farmers tan that I'm acquiring at an alarming pace. I've got to admit, it was a bit strange the first 15 minutes but once I got over the initial weirdness of not having clothes on it's been a very freeing experience.
Well that's all for now, friends. I got invited to join the losing team in some pool volleyball team with my new and extremely naked friends. Stay tuned for the next, more clothed, edition of James and his Bike.